Rembrandt & Dutch Painting
Who is Rembrandt?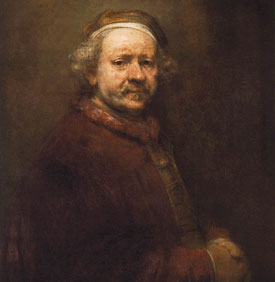 Rembrandt, a Dutch painter and etcher was born in Leiden, the Netherlands on July 15, 1606, his full name was Rembrandt Harmenszoon van Rijn. His father was a miller who wanted the boy to follow a learned profession, but Rembrandt left the University of Leiden to study painting. When Rembrandt became established as a painter, he began to teach and continued teaching art throughout his life.
In 1631, when Rembrandt's work had become well known and his studio in Leiden was flourishing, he moved to Amsterdam. His marriage in 1634 to Saskia van Uylenburgh, the cousin of a successful art dealer, enhanced his career, bringing him in contact with wealthy patrons who eagerly commissioned portraits as well as for paintings of religious subjects. He became the leading portrait painter in Holland.
In 1636 Rembrandt began to depict quieter, more contemplative scenes with a new warmth in color. During the next few years three of his four children died in infancy, and in 1642 his wife died. A dark shroud of despair descended over him, he was no longer the joyous contented man that he had once been. It was in this same year that he painted what is considered to be the most significant single work of his career, The Night Watch. Despite his grief, and perhaps because of it, he was able to create a painting which leaves the viewer in awe.
His claim to fame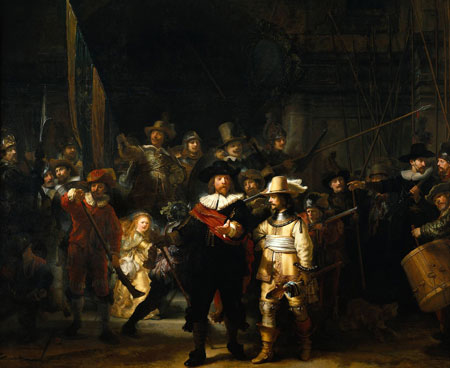 He is generally considered one of the greatest painters and printmakers in European art history and the most important in Dutch history. His contributions to art came in a period of great wealth and cultural achievement that historians call the Dutch Golden Age when Dutch Golden Age painting, although in many ways antithetical to the Baroque style that dominated Europe, was extremely prolific and innovative.
His paintings are characterized by luxuriant brushwork, rich colour, and a mastery of chiaroscuro. Numerous portraits and self-portraits exhibit a profound penetration of character. His drawings constitute a vivid record of contemporary Amsterdam life. The greatest artist of the Dutch school, he was a master of light and shadow whose paintings, drawings, and etchings made him a giant in the history of art.
Rembrandt was at his most inventive in the work popularly known as The Night Watch, painted in 1642. It depicts a group of city guardsmen awaiting the command to fall in line. Each man is painted with the care that Rembrandt gave to single portraits, yet the composition is such that the separate figures are second in interest to the effect of the whole. The canvas is brilliant with color, movement, and light. In the foreground are two men, one in bright yellow, the other in black. The shadow of one color tones down the lightness of the other. In the center of the painting is a little girl dressed in yellow.
The number of works attributed to Rembrandt varies. He produced approximately 600 paintings, 300 etchings, and 1,400 drawings. Some of his works are: St. Paul in Prison (1627); Supper at Emmaus (1630); The Anatomy Lesson of Dr. Nicolaes Tulp (1632); Young Girl at an Open Half-Door (1645); The Mill (1650); Aristotle Contemplating the Bust of Homer (1653); The Return of the Prodigal Son (after 1660); The Syndics of the Drapers' Guild (1662); and many portraits.