Denmark
Country statistics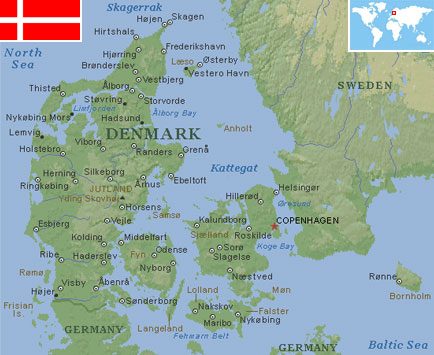 Land area: 16,359 sq miles (42,370 sq km)
Total area: 16,639 sq miles (43,094 sq km)
Population (2011 est.): 5,529,888 (growth rate: 0.251%); birth rate: 10.29/1000; infant mortality rate: 4.243/1000; life expectancy: 78.63
Capital City: Copenhagen
Monetary unit: Krone
Languages: Danish, Faroese, Greenlandic (Inuit dialect), German; English is the predominant second language
Ethnicity/race: Scandinavian, Inuit, Faroese, German, Turkish, Iranian, Somali
Religions: Evangelical Lutheran 95%, other Protestant and Roman Catholic 3%, Muslim 2%
Country introduction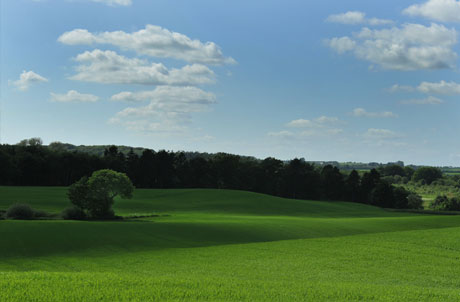 Denmark is a country in Scandinavia. The main part of it is Jutland, a peninsula north of Germany, but also surrounded by 500 islands of which only a hundred are inhabited, including the two major ones, Zealand and Funen, in Østersøen Sea between Jutland and Sweden.
Denmark is often praised as being the one of the greenest countries in the world. It is also largely a flat land, punctuated by many fairytale half-timbered villages, with surprisingly few urban settlements.
Visitors are greeted to everything from a cosmopolitan, food-loving city in Copenhagen to Renaissance castles, wind-swept offshore islands and tiny fishing villages. This is the land that inspired the children's author Hans Christian Andersen, and the Vikings to lay claim to much of this part of Northern Europe.
Those who obsess about furniture, handcrafted items, and sleek modern design make pilgrimages to Denmark for Hans Wegner's sculptured teak chairs and hand-painted Royal Copenhagen porcelain. Among important products from Denmark are windmills (Vestas, Siemens), pumps (Grundfos), toys (Lego) and design (Bang and Olufsen).
The culture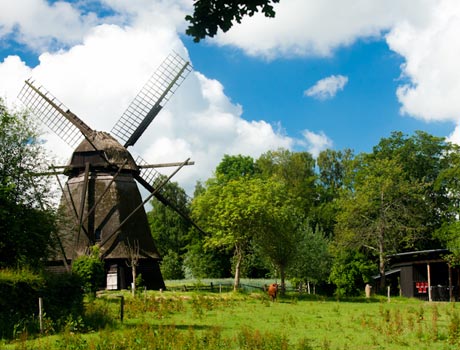 In Denmark, culture can be described through these three aspects of Danish life: Simplicity, politeness, and appropriateness. A simple life is the essence of the culture of Denmark. Not much weight is given to possessions or high income, and bragging is considered to be quite rude.
People strive to create a better environment by developing new and greener ways of living, greener transportation, town planning, industry and more. Along with the sustainable agenda, Denmark is a country with great cultural surplus, because of its wealth and prosperity. Art is often supported by the government and this gives abundant opportunities for artists to develop and express their creativity. But Denmark is also a place where young and untamed culture blossoms in the underground. It is likely to find unfinanced graffiti, and street art and cultural festivals based primarily on voluntary work.
Denmark continues to stamp its effortlessly cool style on the world with its furniture, fashion, architecture and graphic design, as it has done for the last half century or so. This obsession with good design, detail and fine craftsmanship is evident even in something as mundane as a Copenhagen metro or train ride.
Importantly the Danish people have emerged as the happiest people in Europe, according to a new University of Cambridge study on happiness.
Attractions & landmarks
The vast majority of visitors travel to Zealand and, more specifically, Copenhagen, the country's one truly large city and an atmospheric and exciting focal point. The compact capital has everything including a beautiful old centre, a good array of museums, and a boisterous nightlife. One of the big attractions is the Roskilde Cathedral and the Viking Ship Museum in Roskilde. Tivoli Gardens has also kept visitors under its spell for 150 years, especially those who have soared above Copenhagen on the Ferris wheel. Nearby in Klampenborg, visitors can ride the classic wooden Rutschebanen rollercoaster at Dyrehavsbakken, the oldest amusement park in the world.
Beyond the capital and the bigger cities, Denmark offers rural countrysides, medieval churches, Renaissance castles and tidy 18th century villages. There is also a mix of lively towns such as Ribe and Odense. In the latter town the Hans Christian Andersen Museum can be visited where the author's walking stick and top hat can be seen and some of his children's tales can be listen to on tape. Neolithic dolmen, preserved 2000 year old 'bog people', and impressive Viking ruins are just some of the remnants of the nation's long and fascinating history that can be visited.
Only Jutland (Jylland) is far enough away from Copenhagen to enjoy a truly individual flavour, as well as Denmark's most varied scenery, ranging from soft green hills to desolate heathlands and windswept coastline. Aarhus on the east side of the peninsula of Jutland has the most lively and enjoyable city outside the capital. Nearly an hour from Aarhus is the exhibition of the Frigate Jylland (Fregatten Jylland). Here visitors will find the longest and last screw-propelled steam frigate in the World, which participated in naval action against the Austrian-Prussian fleet during the Second War of Schleswig in 1864.