Qatar
Country statistics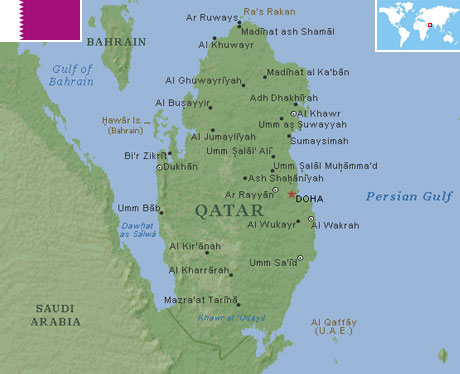 Total area: 4,416 sq miles (11,437 sq km)
Population (2011 est.): 1,951,591 (growth rate: 4.93%); birth rate: 10.23/1000; infant mortality rate: 6.81/1000; life expectancy: 78.09; density per sq miles: 214
Capital City: Doha
Monetary unit: Qatari riyal
Languages: Arabic (official); English a common second language
Ethnicity/race: Arab 40%, Pakistani 18%, Indian 18%, Iranian 10%, other 14%
Religions: Religion Muslim 77.5%, Christian 8.5%, other 14% (2004 census)
Country introduction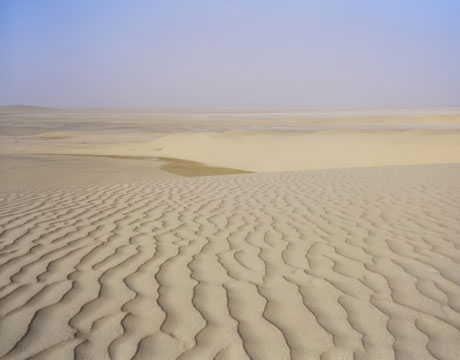 Qatar is a peninsula in the east of Arabia, that juts 160 km (100 miles) north into the Persian Gulf from Saudi Arabia.
Qatar is mainly flat and rocky with some low-rising limestone outcrops in the Jebel Dukhan area in the west and Jabal Fuwairit in the north. It is characterized by a variety of geographical phenomena including many coves, inlets, depressions and surface rainwater-draining basins known as riyadh (the gardens), which are found mainly in the north and central part of the peninsula. These areas have the most fertile soil and are rich in vegetation.
The highest point in Qatar is Qurayn Abu al Bawl at 103 m (337 ft) in the Jebel Dukhan area to the west, which is a range of low limestone outcrops running north-south from Zikrit through to Umm Bab in the southern border. This area also contains Qatar's main onshore oil deposits, while the natural gas fields lie offshore, to the north-west of the peninsula.
To the south-east is the spectacular Khor Al-Adaid or "inland sea", which is a huge salt-water inlet jutting into the desert and is surrounded by kilometres of towering sand dunes.
Of the islands belonging to Qatar, Halul is the most important. Lying about 90 km (55 miles) east of Doha, it serves as a storage area and loading terminal for oil from the surrounding offshore fields.
The culture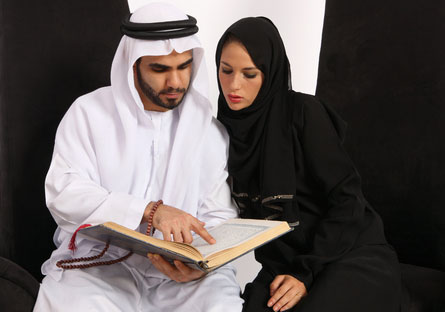 The area now occupied by the country of Qatar has been inhabited for thousands of years. During most of that period, the area was a loose association of tribal groups. Eventually the area came under control of the Ottoman Empire. Prior to World War I, the British declared the area a British state after the withdrawal of the Ottomans. At that time, the economy was based on the harvesting of pearls. In December 3rd, 1971, Qatar became a sovereign Arab state.
For more than 200 years, the Al-Thani family has been the rulers of Qatar. The policies of the At-Thani family managed to guide the area through minor political associations and treaties with nearby Arab countries. The Qatari people have transformed their land into a shining city at the forefront of innovation and progress.
The Qatari inhabitants are of Arabic origin and the culture is very much based on Islamic tradition and is dominant influence on a day-to-day basis. This rich cultural tradition is present in what they wear, eat and drink. Qataris are known for their generosity and friendliness, thus making Qatar a very welcoming country.
With all the changes, Qataris have retained their cultural heritage. Most Qataris wear the national dress. For men, this is a white robe-like garment, or 'thawb', and they often wear the 'ghutra', a square, cotton cloth on their heads held in place with a black cord, or 'iqal'. Women traditionally wear an 'abaya' or a black robe, and cover their hair with a 'shaila', with some women covering their face with a 'niqab'.
As a predominantly Islamic population, celebrations in Qatar are often religious in nature, but also revolve around the region's deep cultural history. The religious observation of Ramadan is by far the most widely kept tradition in Muslim countries of the Middle East, including Qatar. It is observed in the ninth month of the Muslim calendar and lasts for 29 or 30 days, with a focus on spirituality, fasting and prayer. Another phase of the Eid celebration is Eid al Adha, which begins 70 days after Eid al Fitr and lasts for four days. Known as the "feast of sacrifice", this occasion commemorates the biblical account of when Prophet Abraham was willing to sacrifice his son Ishmael to God. Muslims in Qatar honor this tradition of sacrifice by slaughtering an animal such as a cow or goat and dividing the meat between family, relatives and the poor. National Day, also known as Founder's Day, is celebrated annually on December 18th in honor of Sheikh Jassem bin Mohamed bin Thani, considered to be the father of Qatar after his victory over the Turks paved the way for the modern-day country. Historical events are re-enacted and fireworks displays light the sky. National Day replaces a former celebration known as Independence Day, which acknowledged the independence from Britain.
Qatar is an exceptional place to illustrate all types of Gulf and Middle Eastern cuisine, as well as Iranian and Turkish. Local plates consist of matchbous which is spiced Lamb with rice, hareis which is prepared by slow-cooked wheat and tender lamb and seafood eaten with seasoned rice. Qatar cuisine also contain traditional desserts such as 'Khabees' (prepared by using semoolina, rosewater, cardommom, saffron, nuts and dates), 'Aseeda' (date syrup thickened with flour cooked in ghee that's served topped with melted butter), and 'Luqaimat' (dumplings fried in deep oil and sweetened using honey or sugar syrup). Desserts are normally enjoyed with a cup of Arabic coffee.
Attractions & landmarks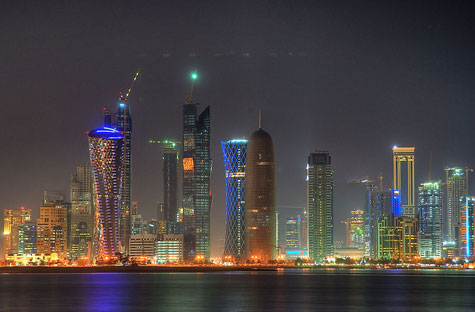 With thousands of years of history, Qatar is a cultural oasis rich in art, national heritage and historic landmarks.
Originally a pearling and fishing settlement, Qatar has a long history as an important trade hub in the region. Today it is a dramatic mix of traditional and contemporary culture as seen along the Corniche where traditional dhow boats coast along Gulf waters amid a backdrop of dazzling modern skyscrapers. Also located on the Corniche is the Museum of Islamic Art. Designed by renowned architect, I.M. Pei, it houses a unique collection detailing the spirit, intricacy, and variety of Islamic art from the 7th to 19th century. History enthusiasts can delve deep into local history with a special visit to Sheik Faisal's Museum to view his enviable collection of Arabian antiquities. Meanwhile, modern art lovers will appreciate the newly opened Mathaf Arab Museum of Modern Art.
Traditionally in Arabian towns, shops were grouped according to goods they sold. In Doha, this custom is still found among the city's many souqs. Souq Waqif, built in the style of these historical marketplaces, is the place to go for Arabian souvenirs, handicrafts, spices, incense, and perfumes. Locally harvested honey, handmade camel riding equipment, pottery, incense, and flowers can be found at the Omani Souq. The Gold Souq is the best place to browse beautiful gold and silver jewellery or order a specially handcrafted piece. Fashionistas will also appreciate shopping the latest trends at some of Doha's many grand malls including City Centre mall in the heart of Doha's breathtaking skyline and the Villaggio mall styled of an Italian village. These malls consist of restaurants, ice skating rinks, climbing walls, cinemas, bowling alleys and family amusement parks. Adventurers will also appreciate the many water and beach sports available at various resorts and hotels throughout Doha.
The Al Rumaila Park is a well known tourist destination in Doha, which is located close to the Corniche Bay along a 7 km (4 miles) road that runs the coastline of the Arabian Gulf. This is a prefect place to walk, cycle and rollerblade in the backdrop of fantastic views and scenery.
Approximately an hour outside of Doha, the Inland Sea, or Khor Al Udaid, is a naturally formed inlet of the Gulf. This remarkable landscape is home to awe-inspiring 40 m (131 ft) high sand dunes and an abundance of terrestrial and marine plants and animals. Desert safaris or dune bashing trips can be scheduled to traverse this untouched part of Qatar.
Another interesting attraction is Al Jassasiya, which are a range of rocky hills facing the north-east coast of the country between the two villages Fuwairit and Al Huwailah. They are famous for their stone carvings some of which are dated back to pre-historic times.