Singapore
Country statistics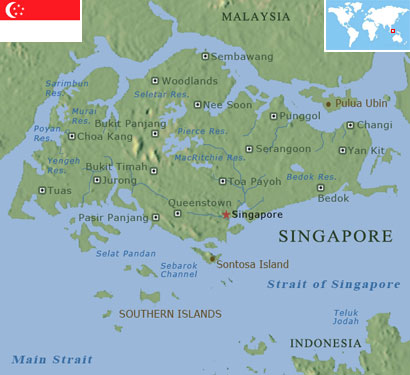 Land area: 241 sq miles (624 sq km)
Total area: 267 sq miles (692.7 sq km)
Population (2011 est.): 4,740,737 (growth rate: 0.817%); birth rate: 8.5/1000; infant mortality rate: 2.32/1000; life expectancy: 82.14
Capital City: Singapore
Monetary unit: Singapore dollar
Languages: Mandarin 35%, English 23%, Malay 14.1%, Hokkien 11.4%, Cantonese 5.7%, Teochew 4.9%, Tamil 3.2%, other Chinese dialects 1.8%, other 0.9% (2000)
Ethnicity/race: Chinese 76.8%, Malay 13.9%, Indian 7.9%, other 1.4% (2000)
Religions: Buddhist 43%, Islam 15%, Taoist 9%, Hindu 4%, Catholic 5%, other Christian 10%, none 15% (2000)
Country introduction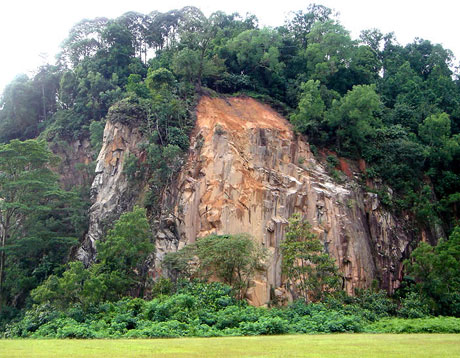 Singapore is a small, heavily urbanised, island city-state in South-east Asia, located at the southern tip of the Malayan Peninsula between Malaysia and Indonesia.
Singapore consists of 63 islands, including the main island, widely known as Singapore Island but officially Pulau Ujong. The main island comprises of low, rounded hills and water reservoirs in its centre, low ridges to the west and south-west, and is flat to the east and south-east. Short, narrow streams flow from the central hills and onward to the sea through mangrove swamps.
There are two man-made connections to Johor, Malaysia: the Johor-Singapore Causeway in the north, and the Tuas Second Link in the west. Jurong Island, Pulau Tekong, Pulau Ubin and Sentosa are the largest of Singapore's smaller islands. The highest natural point is Bukit Timah Hill at 166 m (545 ft), the lowest point is the Singapore Strait, at 0 ft. The total land area is 697 sq km (269 sq miles), of which only 10 sq km (3.9 sq miles) is water. Singapore's only natural resources are deepwater ports and fish.
Singapore was once covered with dense lowland tropical rainforest, with mangrove forests lining the muddy coasts and tidal creeks. Tigers, wild boars and musangs were common. As the settlement grew in the 1840's, forest were cut down to cultivate crops such as nutmeg, gamlier, clove, pepper and cocoa. Many endemic plant species, including more than 50 species of mangrove-inhabiting orchids, gradually disappeared with deforestation. The effect on wildlife, especially large mammals, was more severe. Today about 23% of Singapore's land area consists of forest and nature reserves.
The culture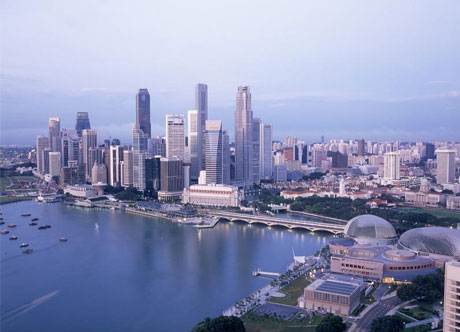 Singapore culture has a strong influence of Chinese, Malay and Indian cultures. The diversity of Singapore culture is due to its rich history. Singapore was once a popular free trading port in the 18th century which attracted many Chinese immigrant from China, Indian from the India sub-continent, Malay from the Malay peninsular and Eurasian from the various part of Europe who came to trade in Singapore or work in Singapore and later settle down at this cosmopolitan island. These ethnic races still evident in modern Singapore today, though most of the Singaporeans do think of themselves as Singaporeans, regardless of race or culture, each still bears its own unique character and this mixture of cultures formed the Singapore culture.
Singapore's religious and ethnic diversity is reflected in the sheer number and variety of festivals and celebrations held during the year. The major religious and ethnic events and public holidays include the Chinese New Year, the Mid-Autumn Festival, Hari Raya (which has two parts) and Deepavali. Cultural highlights include the Singapore Arts Festival, Singapore International Film Festival and Singapore Food Festival, while the National Day, an anniversary of the country's independence is a major event.
In Singapore, food is also readily and widely available. There are lots of cuisines offering Chinese, Indian, Malay, Indonesian and Western, Italian, Peranakan, Spanish, French, Thai and even Fusion. It is very common to savour other culture's food and some of the food can be very intriguing. Indian food are relatively spicier, whereas Chinese food is less spicier and the Chinese enjoy seafood. Malay cooking uses coconut milk as their main ingredient, that makes their food very tasty.
Attractions & landmarks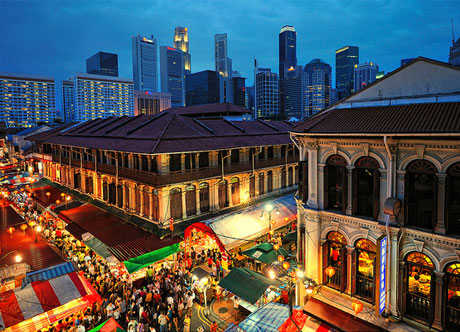 Singapore has a lot of distinct influences on its culture, the most famous of which is probably the colonial influence. In particular Sir Raffles was responsible for the building and development of most of the infrastructure during colonial rule. The famous Raffles Hotel is world renowned as one of the most luxurious and high class hotels in Asia. Also, impressive remnants from this era of Singapore's history is the fantastic Empress Palace building which now houses an exclusive restaurant as well as a museum and art gallery. With colonial rule came the mark of Christianity which ushered excellent examples of architecture that visitors will be able to see at both the St Andrew's Cathedral and the Cathedral of the Good Shepherd.
It is impossible to visit Singapore without paying a trip to Chinatown. This area is still very much the city's cultural hub and is representative of Singapore's ancient oriental roots. The entire area is bustling with activity and boasts some of the best food on the island. During the day it is possible to find plenty of traditional shops selling everything from incense and herbal remedies to Chinese style teahouses. Although the growth of the financial district and redevelopment has to a certain extent suppressed the charm of this area it is still possible to find plenty of examples of traditional Chinese style life, one superb example is the Thian Hock Keng Temple which is notable for having been assembled entirely without nails.
Orchard Road is one of the most fashionable streets in Singapore, it is here that all of the luxury 5 star hotels jostle with the most trendy of boutiques and shops. The nightlife here is unparalleled if pricy and there are enough shops to keep even the most demanding shopper satisfied all day.