Cezanne, Gauguin & Seurat
Who is Paul Cezanne?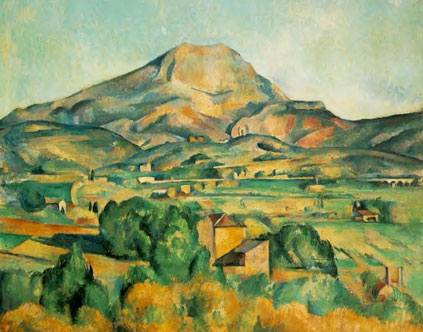 The work of Post-Impressionist French painter Paul Cezanne (January 19, 1839 - October 22, 1906)) can be said to form the bridge between late 19th century Impressionism and the early 20th century's new line of artistic inquiry, Cubism. The mastery of design, tone, composition and color that spans his life's work is highly characteristic and now recognizable around the world. Both Henri Matisse and Pablo Picasso were highly influenced by Cezanne, who attributed Cezanne as the "the father of us all".
Cezanne's work demonstrates a mastery of design, colour, composition and draftsmanship. His often repetitive, sensitive and exploratory brushstrokes are highly characteristic and clearly recognisable. He used planes of colour and small brushstrokes that build up to form complex fields, at once both a direct expression of the sensations of the observing eye and an abstraction from observed nature. The paintings convey Cezanne's intense study of his subjects, a searching gaze and a dogged struggle to deal with the complexity of human visual perception.
In the beginning of his career, Cezanne focused on painting landscapes and imaginative figures within them. This developed in a desire to simplify nature into its geometric essential forms. In the beginning his work was soundly rejected, finally in 1866 he had his first submission to the Salon in Paris. He enjoyed public recognition and financial success in his lifetime, but preferred to stay out of the lime light and painted primarily in the south of France, in his beloved Provence.
Who is Paul Gauguin?
Eugene Henri Paul Gauguin (7 June 1848 - 8 May 1903) was a leading Post-Impressionist painter, who was not well appreciated until after his death. Gauguin was recognized for his experimental use of bold colors and synthetist style that were distinguishably different from Impressionism. He was also an influential exponent of wood engraving and woodcuts as art forms.
Paul Gauguin was born in Paris, France to journalist Clovis Gauguin and half-Peruvian Aline Maria Chazal, the daughter of proto-socialist leader Flora Tristan. In 1851 the family left Paris for Peru, motivated by the political climate of the period. Clovis died on the voyage, leaving three-year old Paul, his mother and his sister to fend for themselves. They lived for four years in Lima, Peru with Paul's uncle and his family. The imagery of Peru would later influence Paul in his art.
Like his friend Vincent van Gogh, with whom in 1888 he spent nine weeks painting in Arles, Paul Gauguin experienced bouts of depression and at one time attempted to commit suicide.
In 1903, due to a problem with the church and the government, he was sentenced to three months in prison, and charged a fine. At that time he was being supported by the art dealer Ambroise Vollard. He died of syphilis before he could start the prison sentence. His body had been weakened by alcohol and a dissipated life. He was 54 years old.
Who is Georges Seurat?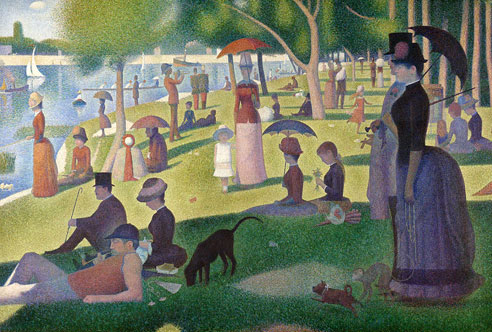 Georges Seurat (December 2, 1859 - March 29, 1891) was a French painter and draftsman. He is noted for his innovative use of drawing media and for devising a technique of painting known as pointillism. His large work Sunday Afternoon on the Island of La Grande Jatte, his most famous painting, altered the direction of modern art by initiating Neo-impressionism, and is one of the icons of 19th century painting.
Seurat was born into a very rich family in Paris. His father was a native to Champagne, and his mother was a Parisian. Shortly after installing the 1891 Salon des Indépendants, Seurat took ill. He died on March 29 in Paris, after a brief bout with pneumonia or meningitis. At his parents' request, the contents of Seurat's studio were classified and, after a proposed gift to the Louvre was refused, dispersed among Madeleine Knobloch (his common-law wife) and several of Seurat's followers.
Seurat spent his life studying color theories and the effects of different linear structures. He produced seven monumental paintings, 40 smaller paintings and sketches, about 500 drawings and several sketchbooks.
Their claim to fame
Paul Cezanne, Paul Gauguin and Georges Seurat, along with Vincent van Gogh, were pioneers of the Post-Impressionism movement in the art world. Although they all painted in highly personal styles and did not exhibit together under the 'umbrella' of Post Impressionism, they were united in rejecting the limitations of Impressionism. They developed a range of personal styles that focused on the emotional, structural, symbolic and spiritual elements that they felt were missing from Impressionism.
The focus was on finding new ways to express form and space, which generally was not well received by the public. Post-Impressionism is characterized by bright colors, sharp, often outlined edges and is disinterested in recording light and color phenomena.