Vincent van Gogh
Who is Vincent van Gogh?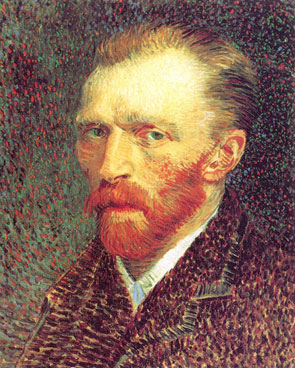 Vincent Willem van Gogh was born on 30 March 1853 in Zundert in the Southern Netherlands, the son of a pastor. He was a Dutch post-Impressionist painter whose work, notable for its rough beauty, emotional honesty, and bold color, had a far-reaching influence on 20th century art.
In 1869, he took his first job, working in the Hague branch of an international art dealing firm. He began to write to his younger brother Theo, a correspondence which continued for the rest of Van Gogh's life.
Van Gogh's job took him to London in the United Kingdom and Paris in France, but he was not interested in the work and was dismissed in 1876. He briefly became a teacher in England, and then, deeply interested in Christianity, a preacher in a mining community in Southern Belgium.
In 1880, at the age of 27, he decided to become an artist. He moved around, teaching himself to draw and paint and receiving financial support from Theo. In 1886, Van Gogh joined Theo in Paris, and met many artists including Degas, Toulouse-Lautrec, Pissarro and Gauguin, with whom he became friends. His style changed significantly under the influence of Impressionism, becoming lighter and brighter. He painted a large number of self-portraits in this period.
In 1888, Van Gogh moved to Provence in Southern France, where he painted his famous series 'Sunflowers'. He invited Gauguin to join him but they soon began to quarrel and one night, Van Gogh threatened Gauguin with a razor. Deeply remorseful he then cut off part of his own ear.
This was the first serious sign of the mental health problems that were to afflict Van Gogh for the rest of his life. He spent time in psychiatric hospitals and swung between periods of inertia, depression and incredibly concentrated artistic activity, his work reflecting the intense colours and strong light of the countryside around him.
On 27 July 1890, after years of painful anxiety and frequent bouts of mental illness, he died at the age of 37 from a gunshot wound, generally accepted to be self-inflicted (although no gun was ever found).
His claim to fame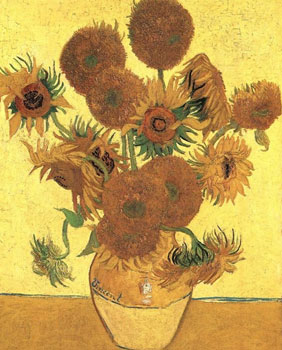 While alive his work was known to only a handful of people and appreciated by fewer still. During his brief career he had sold only one painting, The Red Vineyard (1888), which is now on display in the Pushkin Museum in Moscow, Russia. His fame only began to spread in France and Belgium during the last year of his life, and in the years after his death in the Netherlands and Germany. His friendship with his younger brother Theo was documented in numerous letters they exchanged from August 1872 onwards. Publication of the letters helped spread the compelling mystique of Vincent van Gogh the intense and dedicated painter who suffered for his art, and died young, throughout Europe and the rest of the world.
Gogh worked only with sombre colours, until he encountered Impressionism and Neo-Impressionism in Paris. His works was characterised by expressive and emotive use of brilliant colour and energetic application of impastoed paint, which was fully developed during the time he spent at Arles, France. He produced more than 2,000 works, including around 900 paintings and 1,100 drawings and sketches, during the last ten years of his life.
Most of his best-known works were produced in the final two years of his life. His technique grew more and more impassioned in brushstroke, in symbolic and intense color, in surface tension, and in the movement and vibration of form and line, which may have been a reflection of his erratic state of mind.